CHARLES TOWN, W.Va. -- The best part of the workday for Penny Smoot comes when she looks in the rearview mirror. But it's not because the day is over. On the contrary, her job has just begun.
"When I look back and see those faces smiling at me, it's just the best feeling. That's what I love most about this job," said Smoot, a bus operator for Jefferson County Schools.
Smoot joined the JCS Transportation Department in 2007 on the recommendation of a friend.
"She was a driver and said it was a great job," recalled Smoot, who noted the flexible hours, being on the same schedule as her own kids, and having summers off as attractive incentives. But her love for the students on her route is what ultimately drives her to drive them.
"As drivers, we see a lot, and you develop an understanding for the students who need a little extra now and then," she said.
Over the years, Smoot and other JCS bus operators have supported students in need with items such as warm clothing, Halloween costumes, school spirit wear, and yearbooks.
"I just try to do what I'd want someone to do for me if I were in a situation involving circumstances beyond my control," she said.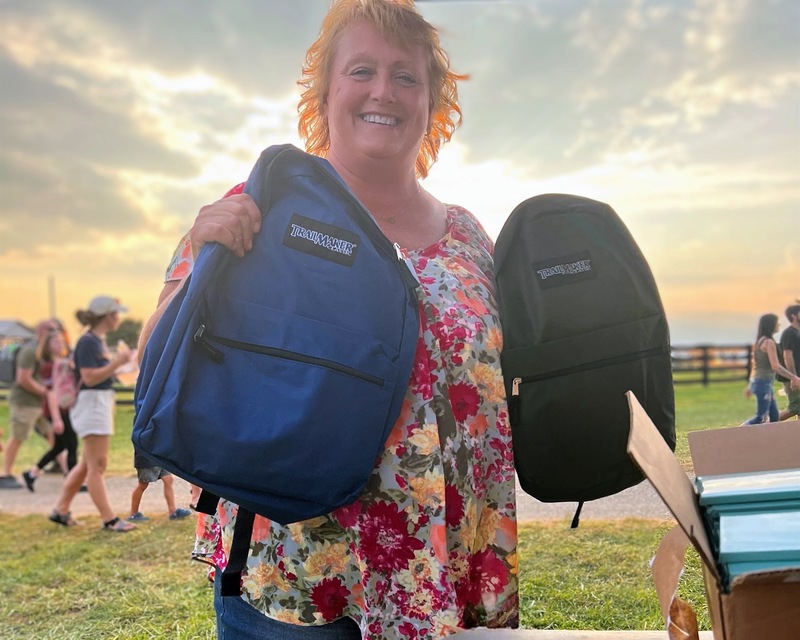 JCS bus operator Penny Smoot
In 2021, Smoot began volunteering for Stuff-A-Bus, the annual school supply drive held by the JCS Department of Transportation. Organized in 2018 by transportation supervisor Heather Pindell in response to local families in need, the event provides another way for staff to support the JCS community. In its first year, volunteers collected enough supplies to fill and distribute more than 50 bookbags throughout the district. The following year, Pindell partnered with Walmart and the Jefferson County Council of Aging to more than triple the number of donations.
"My goal is to have every student be able to walk through the doors on the first day of school focused on their education," Pindell said.
Stuff-A-Bus was not held in 2020 due to the Covid-19 pandemic. Instead, JCS bus operators volunteered their time and resources to deliver meals to families in need throughout the district.
"The drivers who volunteered during Covid didn't care if they got paid or drove their own vehicles or used their own gas," reflected Smoot. "To me, that's a good group of people to work with."
Stuff-A-Bus returned the following year, setting up a week-long collection site at the Jefferson County Fair. This year, Smoot and other volunteers collected enough school supplies to distribute 140 bookbags to schools throughout the district. JCS director of transportation J.R. Hollen is proud of the way his team works together for the good of JCS students.
"Having people who care about our kids and community and go above and beyond makes all the difference," he said. "It makes my job easier because I know [the drivers] are always looking out for the best interests of the students."
Hollen said he is also happy that the district is looking out for its drivers. Recently, JCS became the first school district in West Virginia to offer a tiered compensation scale for bus operators.
"Other service positions already have tiered advancement opportunities," Hollen said. "Now bus operators will have the same."
The new incentive is part of a Retention and Recruitment plan approved by the Jefferson County Board of Education (JCBOE) last year. Bus operators may now be placed in the categories of Bus Operator I or Bus Operator II, based on increased duty guidelines and experience. A third tier is in development. Hollen said he hopes the new program for increasing bus operator pay opportunities will attract new applicants and demonstrate the importance the school system places on the position. The Recruitment and Retention Plan also includes an employee referral incentive of an additional $500 for referring a new team member.
Jose Rubio has driven a JCS school bus for nine years and recently became a Bus Operator II. He said it helps to know the school system and JCBOE recognize the work of JCS bus operators and want to support them.
"Whatever increment in salary is helpful for anybody," Rubio said. "We were, up until recently, the only service personnel who were not tiered, so take advantage of it! It certainly helps."
Rubio said that while the incentive is significant, the kids he works with are the reason he loves his job.
"Every day it's a new day. It's never the same. It's unscripted and I love it."
Penny Smoot agrees and encourages anyone interested in driving to apply to JCS.
"I've had different jobs in different industries, but this one stands out as the best," she said. "If you come here with a good attitude, an open mind, and a love for kids, then this can be the best place in the world to work."
Jefferson County Schools welcomes qualified candidates interested in joining its transportation team. Visit www.jcswv.org/jcscareers to learn about full and part-time employment with the JCS Department of Transportation.